Sunday before the Nativity of Christ
19 December 2022
We've arrived at the last Sunday before Christmas and all the decorations for the feast are in place- in our homes, in shopwindows and all over the towns. We're all ready to celebrate Christmas at some house we love, or to escape for a winter break.
The Church is on the same wave-length. From as early as the feast of the Entry of the Mother of God, we've been singing hymns in honor of this great feast of the Lord, at which we're invited to celebrate the birth of Christ.
In today's Gospel we hear of the genealogy of Christ. In other words, we hear fifty names of those who were Christ's forebears. God determined that it would be through the Patriarch Abraham that Christ would be born, saying: 'From you someone will be born who will save the world. Through one of your descendants, all the nations will be blessed and will be called to salvation'.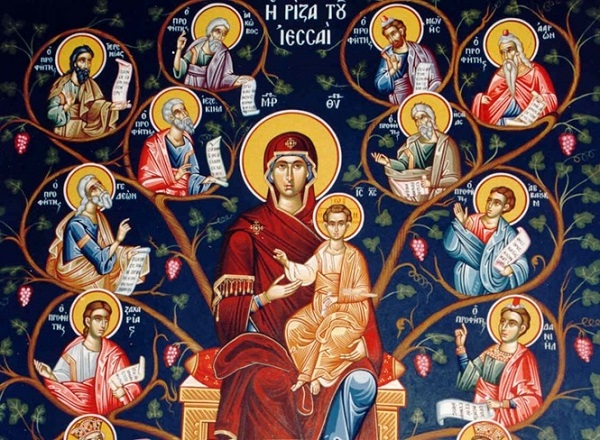 You'd expect that God would have chosen righteous, devout, god-fearing people as forebears. But, once again, God didn't do that. He chose forebears with what we might call checkered pasts: atheists, pagans and so on. If one of us had made those choices we'd say: 'What a mockery! Out of all the people you had to choose from, you picked these?'.
So why did God do so?
To show that all of us are in need of his mercy for our salvation. God saves us through his Son, whom he sent to bear all our sins on the cross, so that we might share in his resurrection.
Once Saint Matthew the Evangelist had named and numbered Christ's genealogy, he went on to describe the nativity itself.
The Virgin Mary was betrothed to Joseph, but, before she entered his household, she was already pregnant through the action of the Holy Spirit. When Joseph realized that Mary was with child, he became alarmed and wanted to divorce her, whilst keeping the information private. His thoughts regarding his pregnant charge were in turmoil, until an angel of the Lord visited him saying: 'Joseph, son of David, do not be afraid to receive Mary your wife, for that which is conceived in her is from the Holy Spirit. And she will bring forth a son, and you shall give him the name of Jesus, for he will save his people from their sins'. Joseph woke up and did as the angel had bidden.
The angel had stressed to Joseph that the babe would 'save his people from their sins'.
He will save you and me from the consequences of the fall. We have to accept this invitation and welcome God as our Savior.
We've entered the final stretch before celebrating the feast of Christmas. Are we of a mind to celebrate Christmas truly, or is it just a feast involving social engagements? Do we want to celebrate Christmas with Christ? If we really want to celebrate we need to prepare within ourselves, not merely on the outside. And how can we do so? By preparing to partake of the spotless sacraments and by trying to welcome the new-born Christ to dwell within us. We must prepare our heart and soul to become the manger where Christ will lie and where divine grace will visit us.
A Merry and Blessed Christmas to one and all.