Thousands Attend the Feast Days of our Monasteries in Canada
29 August 2018
Thousands of pious Orthodox faithful once again flocked to our Holy Monasteries to celebrate their respective feast days: Panagia Parigoritissa (August 23) and Saint Kosmas Aitolos (August 24).
As is tradition, His Eminence Metropolitan Sotirios presided over both Great Vespers and the Divine Liturgy at each Monastery, traveling from outside of Montreal to north of Toronto to be with and preach Christ to the gathered faithful.
His Grace Bishop Irénée (OCA) concelebrated at Panagia Parigoritissa; while His Grace Bishop Mitrophan (Serbian Orthodox Church) concelebrated at Patrokosmas.
Thousands came together for the holy services, which were conducted in accordance to the Athonite typikon. Holy Communion was distributed by the bishops and many priests, with hundreds upon hundreds approaching to receive the life-giving sacrament.
The homilies were spiritually uplifting; the Byzantine-style chanting was heavenly; and, the participation of the faithful brought everyone together like one blessed family in Christ. Numerous Reverend Fathers also participated, many coming with pilgrims from their parishes.
Abbess Thekla (Panagia Parigoritissa) and Abbess Alexia (Patrokosmas) with their Sisterhoods organized all activities wonderfully. Communal meals were prepared following the holy services, as is consistent with monastic tradition.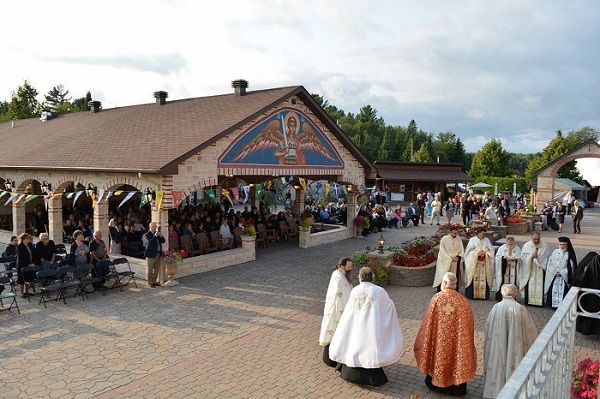 The picturesque and natural environmental magnificence of our monasteries is something the pious faithful look forward to visiting throughout the year, but especially on the feast days.
This year's celebrations were excellent and our Holy Metropolis expresses its gratitude to Abbess Thekla, Abbess Alexia, the Sisterhoods, and all of the volunteers who helped organize the celebratory feasts.
Above all, we glorify and honour the Thrice-Holy God Who has blessed Canada with the spiritual oasis of our monasteries: Panagia Parigoritissa and Patrokosmas.
Source: gometropolis.org